On May 20th, 2016, Blizzard began tweeting out hints to a special event at 1:00pm PST, "Agents Activating" in Hollywood, Paris and Korea. By launch time dedicated fans had already discovered the gigantic action figures setup in each location. The massive statues were part of a Blizzard marketing campaign to promote the release of their new game Overwatch. The project brief was defined as three massive displays featuring Overwatch characters designed to look like giant action figures held within toy packaging. The project was nicknamed Colossal Collectibles and the figures were scheduled for simultaneous unveiling on the same day world-wide.
For Blizzard, there was one studio at the top of the list proven to take on this challenge. Alliance Studio created in 2013 by industry veteran artists Steve Wang and Eddie Yang specializes in all aspects of design and production, including digital models, illustrations, maquettes as well as creature/makeup effects, costumes and large specialty displays. Since the brief was finalized in January, Alliance was pressed for time to deliver by deadline May 20th. Having had experience with 3D printing in the past, they decided to embrace the technology and leverage it to build the characters within the short timeline.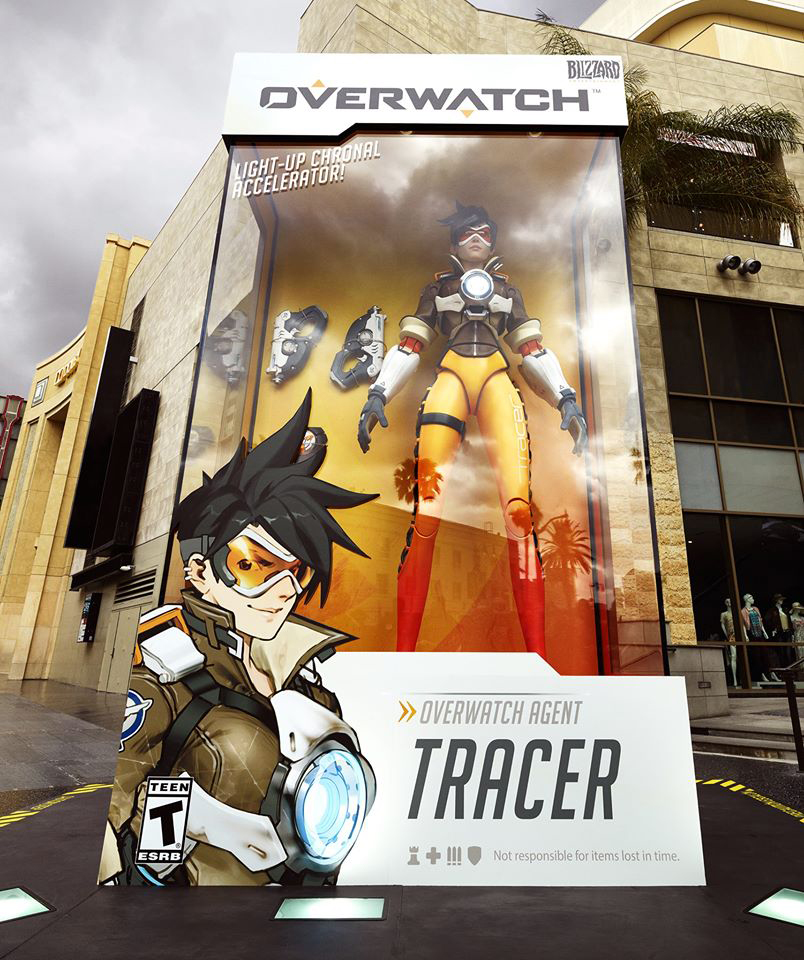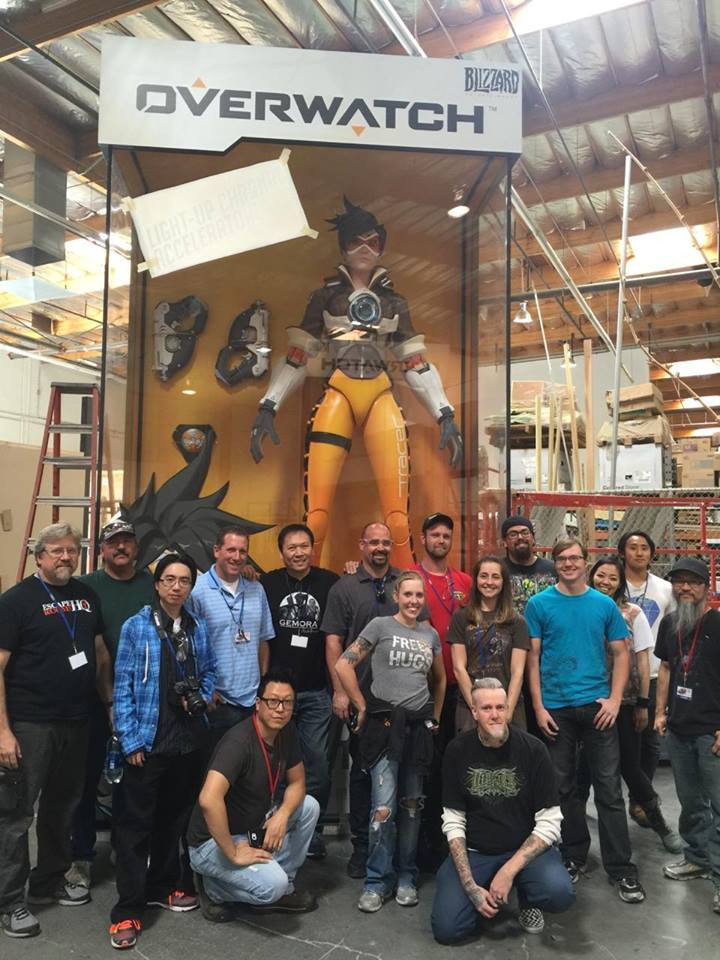 Due in part to Blizzard's marketing campaign, the Overwatch game launch was a resounding success, with 9.7 million players signing up for the open beta! Making the Colossal Collectibles come to life was an epic task and it took the collective effort of the teams at Blizzard, Droga5, Alliance Studio, Scicon, Stratasys and Egads to deliver on time. The finished quality and presentation is due to the standards set by Alliance and all of the passionate and talented artists that worked on the project. Having been on the digital team for this job, I got to see it take shape from beginning and this really showed me the power and advantage of 3D printing when utilized in a professional studio setting.
Behind the Scenes
Logistics
Steve and Eddie got to work assembling teams of artists to tackle everything from digital modeling through assembly and paint. Fully staffed, the Alliance team boasted around 9 digital artists, including yours truly, and over 20 traditional artists working in every available corner of the studio.
The task was to remodel Blizzard's supplied character models to look like articulate-able action figures. Various toys were brought in and used as reference for where and how to slice and part out the characters. Genji and Pharah were both heavily mechanized characters making them easier to segment, however all characters including Tracer required custom modeled torsos, hip joints and pivots for the arms and legs.
Everything had to be built in digital at the correct real world scale, and In addition to the modeling changes, the digital team had to prep assets for 3D print. This can be a time consuming process but luckily a lot of the 3D print prep and support creation was handled by Alliance's chosen 3d printing vendors, Scicon Technologies and Stratasys direct manufacturing.
As soon as the 3D prints were cured, they were shipped back to Alliance Studio for post processing and assembly. Since stereolithography 3d printing requires support generation, each print had a patchwork of support structures that needed to be removed and sanded smooth before any additional work could begin.
Cleve Gunderman, build team supervisor at Alliance, had to come up with a plan to drill into various prints and build specific keys trapdoors and sleeves to reinforce the interiors with fiberglass. In addition, the torso and legs had an internal structural support skeleton built out of a Speed-rail system of aluminum pipes and joints.
After supports were finalized and the pieces were able to be mounted, the prints went through another round of sanding and cleaning before first being primed with an overall light base color. According to artist Miyo Nakamura, the really challenging aspect of paint on this project was all of the masking required between various paint applications.
There were a lot of fine details including eyes, faces, emblems flags and hero badges which various artists at Alliance painted in by hand and airbrush for gradients. Tracer's goggles were custom made to order using a translucent orange plexi-glass. Complex patterns such as Genji's carbon fiber muscles were created using a custom printed mask for each muscle!
Alliance Studios created all the characters but they needed specialized help to create the colossal collectibles packaging. They reached out to an old friend Nick Benson, and a company called Egads out of Las Vegas Nevada. Egads built the large base platforms the figures would be mounted on, provided the 12ft tall sheet of 1" thick acrylic plastic to simulate the clear plastic packaging for the front of the boxes and served as the ideal assembly test ground for practice before the statues went on location.
Though the sculptures alone were plenty impressive, each character has unique lighting and sound effects to take the presentation to the next level, adding what John McPhalen, Alliance's electrical supervisor, calls "that smile effect." The sounds and lights such as used for Tracer's chest, were embedded throughout the build process and set to be activated by pressing a button on the side of the boxes.
The Alliance team's goal was 10 hours to setup on location, this meant a lot of the pieces had to be assembled prior to shipping. The challenge now was the weight as the figures weighed over 1000 pounds and the crate with the outer box weighed 5500 pounds and was able to make it into the plane by just 2 inches! The Alliance team split into three groups that would each travel on location to setup the displays. Several members of the team were required to fit each element because of the weight and a crane was required to lift the torso in place on top of each of the legs.
About the author: Aiman Akhtar is a 3D Artist who specializes in stylized character development for animation and 3D print design. Aiman currently runs his own digital sculpture/3d print company, 3Dsmiths, which specializes in transforming 2D creations into 3D sculptures.
Currently, Aiman is also teaching 3D Printing at Mold3D Academy.